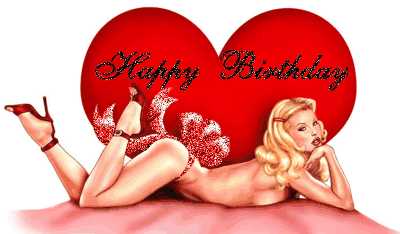 glitter-graphics.com
I just celebrated my 28

th

birthday two days ago. I guess I'm really getting older (hopefully wiser as well) since I was surprisingly satisfied with the things that happened and things I did on my birthday no matter how simple and shallow it may seems.
Anyway, here are my 28 birthday celebration (non)highlights:
I woke up early in the morning smiling of it was my birthday!

Prayed and gave thanks to God for another year

Read some of the birthday

sms

greetings from friends

Got slobbered by the dogs (I guess those were their greetings)

Ate breakfast, took a bath and went to church

Went to

MOA

for lunch out with family

Unable to decide where to eat, chose to dine at Gerry's instead

Bought a box of

Krispy

Kreme

for take out

Went home, traffic at Airport Road

Updated online accounts again, uploaded some pictures

Went to BF

Paranaque

for dinner

Ordered

siomai

at

Henlin's

(i was already full

coz

I ate at home)

"Rainbow" played over the radio. I haven't heard that in ages! (That was the background song playing when I dreamt about my deceased ex-bf telling me to move on)

Went home and sleep (technically ended my birthday)

The next day, woke up late, ate lunch, took a bath

Let Nico wait for an hour, then drove to

Greenhills

Strolling, Shopping, Strolling, Shopping

Strolling, Shopping, Strolling, Shopping again (I was at my element!)

Had a steak dinner at the House of Minis

Tried to catch "celebrations" at

SMX

(wedding exhibit) but it was already closed

Tried some of the clothes I bought and slept
Grabe! As I was listing down these things, I realize that it was indeed boring. It doesn't seems like a birthday celebration at all. Hahaha! It was okay but I was really really happy because I spend it with my love ones.